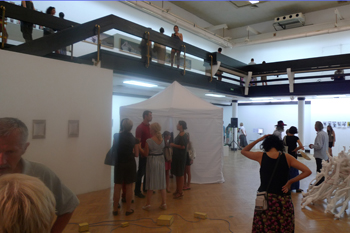 Triennal Extended Media, Belgrade, 2013
"Fragile". Performance, video and photography inside the gallery.
"Biber". Performance with six participants, performed outside.
Assistent: Arion Asllani.
Photo: Svetlana Volic.

.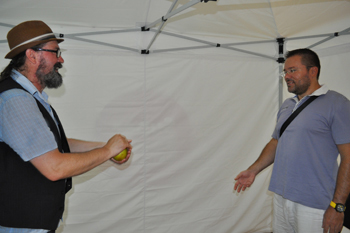 "Fragile" Performance by Emir Krajisnik. In the tent there is a conversation going on between the artist and the visitor. Something suddenly happens at the end of each dialogue. The artist gives clues during the talk to help the person find out what is going to happen.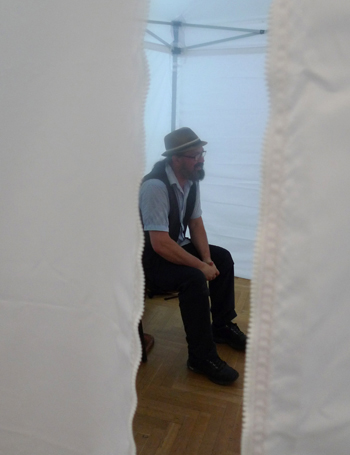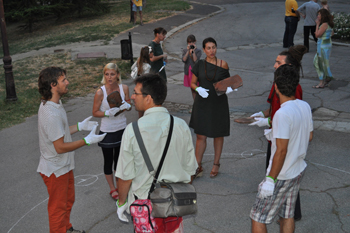 "Biber" Performance by Emir Krajisnik.
Six persons throws three tiles, called "biber"*, between themselves, trying to catch them and not to break them.
Participants: Arion Asllani, Sladjana Mikic, Ognjen Trajkovic,
Natasa Marek, Predrag Radovancevic and Srdjan Veljovic.
* In the olden days this light and simple tile, called biber, was used for roofs that allowed a light construction. When the workers put the tiles in place they used to throw them to eachother, from the ground up to the roof, which requirered great skill and confidence. Even today this way of repairing of roofs appears on the Balkans.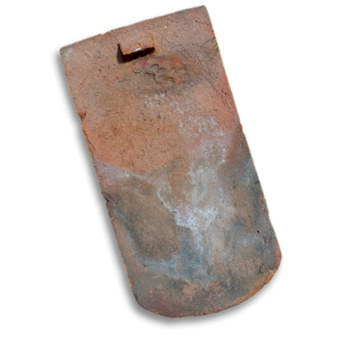 Photo: Emir Krajisnik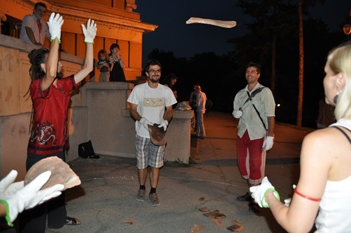 Predrag Radovancevic, Srdjan Veljovic and Ognjen Trajkovic.
BACK <<